Tuesday, November 17
2009 Super Bowl Pictures and Game Report
WSJFL Varsity Super Bowl – November 15, 2010
Rochester Redskin vs Farmington Rockets
Division foes Rochester (9-0-1) and Farmington (9-1-0) met in the WSJFL Super Bowl three weeks after their divisional showdown which saw the Redskins come from behind in the second half for a 44-40 victory. Rochester's running game, lead by great blocking from their offensive line, proved to be too much for the Rockets. They ran over the Rockets for 384 yards with C.J. Bias carrying a majority of load with 18 carries for 268 yards. Joe Cox provided for another 84 yards on the ground plus 2 catches for 96 all purpose yards. Defensively, Josh Bowling lead the way with 11 tackles, 8 assists and 2 sacks while Davis Strobridge provided his usual highlights with several crushing tackles. The Redskin defenders were in the Rocket backfield all afternoon and Rochester won 43-25.
The Redskins scored early with a 56 yard drive on their first possession. Noah Beck got the touchdown on a 7-yard run. Their second possession started on their own 22 after Farmington's second punt and a couple of plays later Bias would dazzle the crowd with a 68-yard run giving Rochester a 12-0 lead. The Rochester defense would again hold the Rockets who failed to gain a first down in the first quarter.
Rochester had an opportunity to score again early in the second quarter when Clifford Baxter took a pitch from Bias and tossed it down field to a wide open receiver. The ball fell off his fingertips and then, Farmington would hold on fourth down giving the Rockets their first boost of the game. They responded quickly moving the ball inside the 10 for a first and goal at the 5. Farmington got on the scoreboard on 4th down with a 1-yard quarterback sneak. The Rockets maintained their momentum forcing Rochester to punt and would score again on a reverse pass to Moore from 25 yards out. Trailing now, 13-12, Rochester needed to regain the edge and they did when quarterback Justin Allor capped a 48-yard drive by connecting with Noah Beck for a 16 yard touchdown pass. Next it was the defense's turn and they too came up big with a Derek Willis interception and the half would close with Rochester leading 20-13.
Rochester started the second half with the ball and quickly moved into the red zone. Farmington's Peterson intercepted an Allor pass at the one yet the Redskin defense would hold the Rockets deep in their own territory and force a punt. Rochester again moved the ball from their 45 to deep into Rocket territory and this time Bias would score on an 11-yard run giving Rochester a 15 point lead. The Rockets were not going to quit however and hit back with 75 yard run. Cox made a touchdown saving tackle inside the 10 yet Westbrook would score a couple of plays later to pull the Rockets back within 9 points.
Farmington could not slow down the Redskin run game as Rochester began the fourth quarter by finishing off a 65 yard drive with Bias scoring his third touchdown from six yard out through a gapping whole. With a 35-19 lead the defense held strong. A Brett Jacobs sack on fourth down with 2:27 to play sealed the victory. Each team would score again, Rochester's Cox on a 14- yard run and with 23 seconds left Farmington's Craven caught a 48 yard touchdown pass. This Super Bowl victory would give several of the career Rochester players, in their final game wearing the Redskin uniform, their third WSJFL championship!
---
"Family Tight"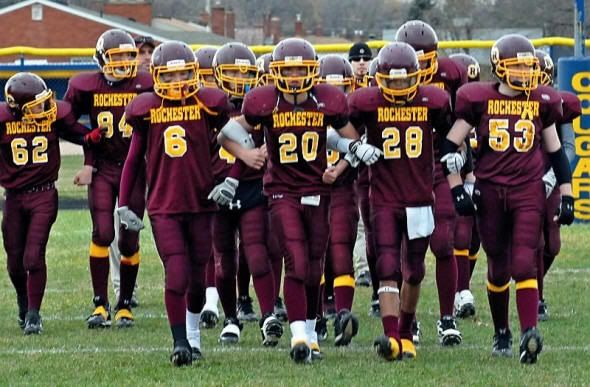 Looking good Coach Nick..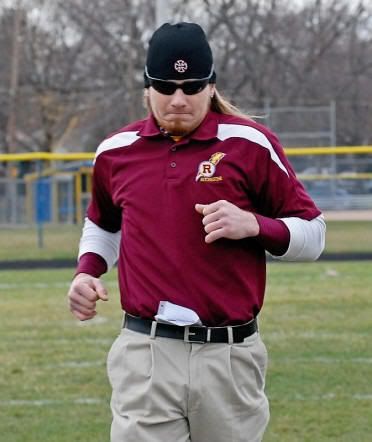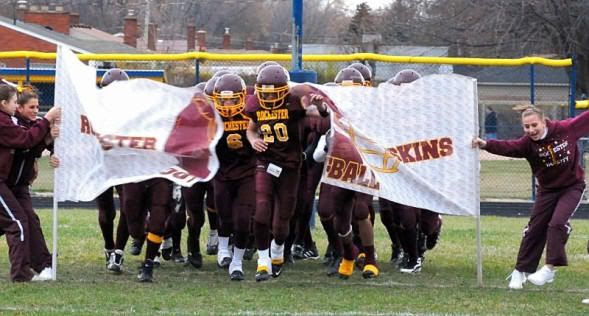 This picture is AWESOME!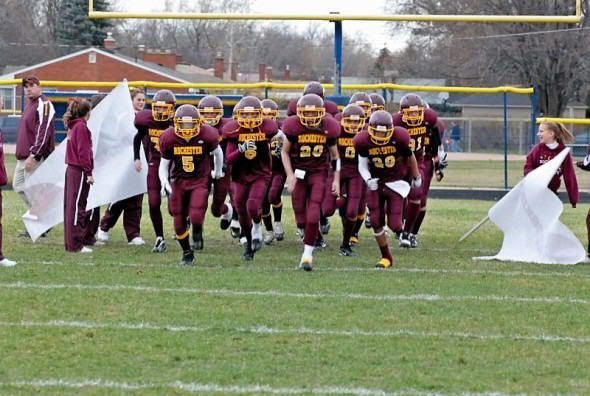 A Heavy dose of "CJ" all day!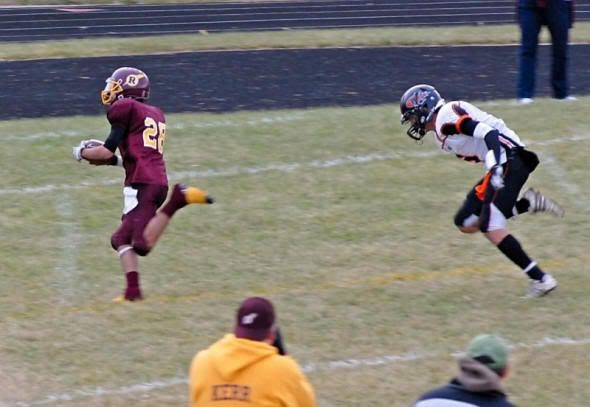 What a defense!!!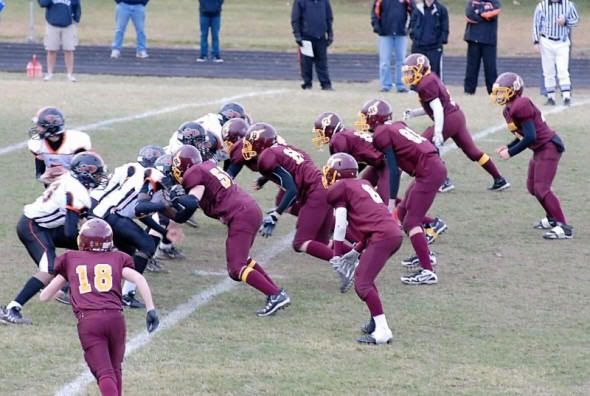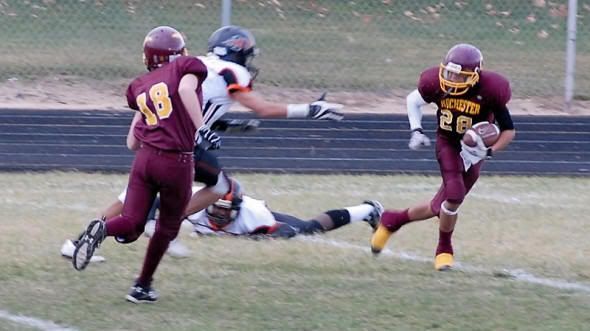 Great job OLINE-  a hole big enough for a MAC truck
Many more pictures available from  http://2009rochesterredskins.shutterfly.com/